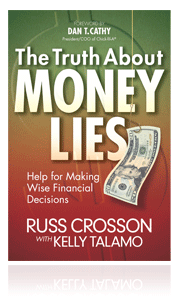 Is what you believe about money actually Truth?
The Truth About Money Lies might become the catalyst to a transformation in how you think and deal with money.
Each chapter of the book begins with a story based on real people's experiences with a specific area of their finances. Their story is followed with the lie that is influencing their dilemma, and then counteracts the lie with Biblical truth.
Russ Crosson, an experienced financial planner, then shares more instruction and insight to support the Biblical truth.   And throughout the book, Kelly Talamo (one of Crosson's clients) backs up Crosson's insights by sharing how they revolutionized his own dealings with money.
In the years I spent practicing as a financial planner, I saw the end results of errant, non-Biblical thinking. But the authors of this book have effectively exposed the root of this thinking, and replaced it with the specific truths that can set you free!
If you or someone you know is feeling stuck, defeated, discontent, or anxious about any area of their financial life, this book can help. Understanding the Biblical principles that govern every area of their finances can give them a renewed hope, and a greater peace of mind.
At the 2012 Kingdom Advisors conference, every registered attendee was provided with a copy of this book. If you were one of those attendees like me, you graciously took the book and put it on a shelf to read "someday". I highly recommend that you do as I did a few weeks ago: let "someday" start today! Blow the dust off, prop up the book on your exercise machine, and enjoy a fun and powerful read!
Reflection: "To the Jews who had believed him, Jesus said, 'If you hold to my teaching, you are really my disciples. Then you will know the truth, and the truth will set you free'" (John 8:31-32).