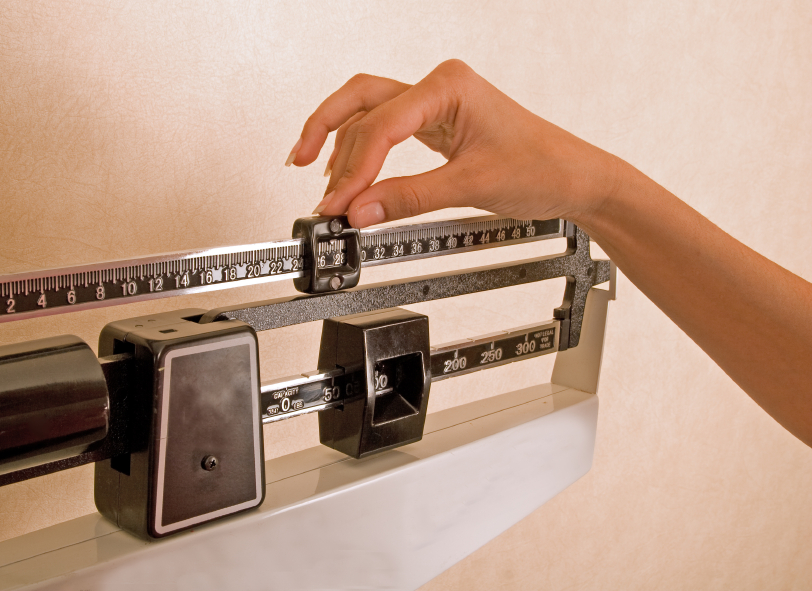 I removed my jacket and shoes, closed my eyes, and stepped on the scale.
Then, for the first time in a year, I emptied my wallet.  I had to pay $14 for exceeding my target weight range. And it was all because I had been "spending" more Weight Watchers points than my budget allowed.  My choice to overindulge was costing me.
In case you aren't familiar with Weight Watchers, every food has a calculated number of points.  Each member is allotted a daily/weekly budget of points designed to help them plan their eating, keep a watchful eye on their intake, and make progress towards their goals.  This budget allows room for occasional indulgence. But if they overindulge by going above their weekly points, they will (eventually) pay the price and gain excess weight.
I reached my goal weight in Summer of 2013, and maintained it +/- 2 pounds for 6 weeks.  I was thereby awarded the status of "Lifetime Member", which meant I would never have to pay for membership or meeting attendance again!
Unless…
I ate outside of my budget.  Which would make me gain too much weight.  Which is exactly what I did, and why I had to pay.
The $14 fine wasn't the only thing I had to pay.  In order to get back on track, I also had to "pay" by sacrificing 6 points per day for the next several weeks.  Which equated to an apple with lunch instead of the granola bar I could normally "afford".  I had to reduce my "spending" in order to recover from my overindulgence and re-stabilize my weight.
Have your household finances ever gotten off track because of overindulgent spending?
I know that budgets sometimes feel restrictive.  And there's a temptation to occasionally throw off these "restraints," and have a little extra fun.
But here's a reality check from my Weight Watchers lesson:
If you play, you have to pay.
Your budget is designed to help you plan your spending, keep a watchful eye on your money, and make progress towards your goals.  You can design it to allow room for fun and occasional indulgence.
But if you realize that your plans are getting off track because of overindulgence, take heart!  You can recover, but it will mean tightening your belt for a season, and sacrificing some of the things you could normally afford. If you're serious about living debt-free and reaching the goals that you and your spouse have set, this is just another part of that commitment.  We've had to do it, and it wasn't fun, but it made us become wiser with our spending choices.
Don't you love it when God uses lessons from completely unrelated areas of life to make a practical point?
"Search my heart, O God…"
Ask God to help you:
develop a livable spending plan that you and your spouse can commit to, and
give you the discipline to tighten your belt to recover from any overindulgence, praying:
Search me, God, and know my heart; test me and know my anxious thoughts. See if there is any offensive way in me, and lead me in the way everlasting (Psalm 139:23-24).
Have you ever had to tighten your belt after a period of overindulgent spending?  If so, what are some of the things you did that were effective?